The final round has begun in Just For The Scrap Of It's "So You Think You Can Design?" Contest.
I am so happy to have made it to Round 4. The competition has been great. Each round has been full of fabulous kit by some really talented designers.
Here is my entry - Night Blossoms:
Our challenge was to use the painting Starry Night by Vincent Van Gogh as inspiration. I have always thought the swirly stars in the painting looked like large flowers. I also thought of some of my favorite quotes - one is by Van Gogh - about the night and flowers. I have included these quotes in my word art.
Starry Night has always been a comforting painting for me. I love how the night seems to embrace the town and how nature is shown to be alive, even at night.
I often think of the townspeople and their lives...how peaceful they must be. I imagine their gardens...this helped inspire me to create my kit.
I took my colors from the painting, too.

My kit contains 6 solid papers, 6 patterned papers, 1 quick page, 1 alpha (capital letters, numerals and special characters), 3 bows, 3 ribbons, 3 stitching, 3 frames, 3 gem brads, 3 glitter sprays, 4 word art and 3 flowers.

Make sure you leave some love for all the contestants and download all the great kits and then vote for your favorite.


VOTING HAS CLOSED. THANKS FOR YOUR PARTICIPATION.


I also have a matching Night Blossoms freebie for you. It contains 4 background papers, 2 flowers, 2 lace, 1 glitter spray and 3 decorative elements.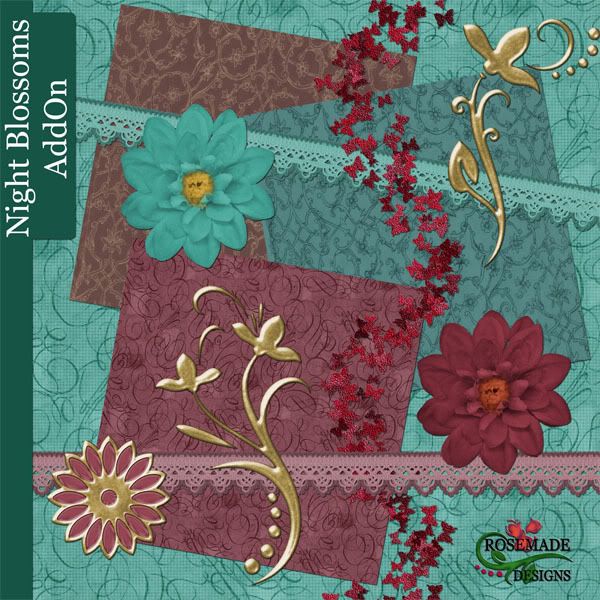 Thanks for your interest, but this freebie has been retired.
Have a great day!
Marcee